Valborg Aulinaus Romantik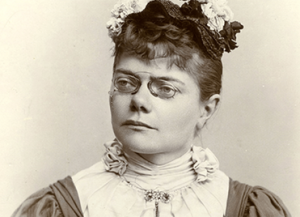 Laura Valborg Aulin (* 9. Januar 1860 in Gävle; † 13. März 1928 in Örebro) war eine schwedische Pianistin und Komponistin.
Leben
Sie studierte 1877 bis 1882 in Stockholm Klavier und Komposition u. a. bei Hermann Berens und Ludvig Norman, 1885 in Kopenhagen bei Niels Gade und bis 1887 in Paris bei Benjamin Godard, Jules Massenet und Ernest Guiraud. In Stockholm war sie als Komponistin, Pianistin und Musiklehrerin tätig. 1903 übersiedelte sie nach Örebro. Ihr Bruder war der Komponist und Dirigent Tor Aulin. Sie komponierte neben Klavierstücken und -liedern zwei Streichquartette (F-Dur und e-Moll), Orgelmusik, Orchester- und Chorwerke.
Quelle Wiki: https://de.wikipedia.org/wiki/Laura_Valborg_Aulin
Laura Valborg Aulin (* 9 January 1860 in Gävle; † 13 March 1928 in Örebro) was a Swedish pianist and composer.
Life
Both of Aulin's parents, Lars Axel Alfred and Edla Aulin née Holmberg, were musical. Her mother, Edla Aulin had hoped for a career as a singer, but bad health had stopped her career. Aulin's father was a classics scholar, holding a doctorate in Greek, on the poet Callimachus. He also held a position at a Stockholm secondary school, where he taught classical languages. While he was a student at Uppsala University, Aulin's father developed an understanding and appreciation of chamber music, eventually becoming a keen amateur violinist, eventually leading to a position in the Mazer String Quartet Society, playing Viola and Violin.
Aulin's musical career began when she started taking piano lessons from her grandmother and by age 12 was taking lessons from Hilda Thegerström. Aulin eventually came to the notice of Albert Rubenson, the then current director of the Royal Swedish Academy of Music. An enrolment at the academy followed when Aulin was 17, to study composition with Rubenson. Aulin was also tutored at the Royal College of Music, Stockholm by Herman Behrens and Ludvig Norman. Norman was an important supporter of Aulin for most of her life and when Norman died in 1885, she composed the Pie Jesu Domine for choir and orchestra. In 1880, Aulin held her first public performance at Söderköping, and went on tour with her brother Tor Aulin to Norrland. Aulin studied piano and composition for 5 years before winning a Jenny Lind Mendelssohn Travelling Fellowship to attend piano tutorials abroad. In 1886, Aulin travelled to Copenhagen to receive study from Niels Wilhelm Gade for a year and in 1887, travelled to Paris for three years to receive composition study from female pianist E. Bourgain as well as Jules Massenet, Ernest Guiraud and Benjamin Godard. In Paris, Aulin created two works, Tableaux Parisiens for orchestra and Procul este for solo voice, choir and string orchestra.
Upon returning to Sweden, Aulin began a career as a teacher, pianist and composer. As a teacher, she supplemented her income by teaching piano, counterpoint, composition and harmony. At the same time Aulin was composing and between 1887 and 1901 she gave recitals of her compositions. As a pianist she often played with her brother, Tor Aulin, and others to form the Aulin Quartet, playing favourites like Camille Saint-Saëns Piano Quartet and Wolfgang Amadeus Mozart G Minor quartet.
Besides many lieder and pieces for solo piano, her compositions included two string quartets (in F major and in E minor) and organ music.
At the age of 43, Aulin decided to move from the capital, that place where grew up in, to Örebro, a city some 125miles to the west. There Aulin began working as a teacher, organist, pianist and arranging concerts although she ceased composing. The reasons for her departure has never been determined, although the move has been viewed with much speculation. The American Scholar posits that the reasons she possibly became fed up with the constant challenges faced by her regarding the musical culture in Stockholm, particularly since Aulin was female and also that she had certain difficulties with her mother. The Swedish Musical Heritage posits the same reasons. Other reasons suggested by The Swedish Art Music Society include the fact that the Aulin Quartet gradually ceased to perform and that the early death of the composer Ludvig Norman along with other members of her support structure. This combined with a lack of friends may have been one another reason.
Either way, Aulin's work was performed less and less, and would be forgotten. It was only in 1991 that Quartet No. 2 was given its next performance.
Source Wiki: https://en.wikipedia.org/wiki/Valborg_Aulin
Werkliste
"Minature" für Klavier
Valse elegiaque für Klavier
7 Stücke für Klavier
Diskografie