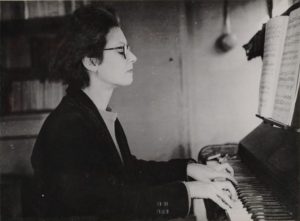 Elsa Barraine (* 13. Februar 1910 in Paris; † 20. März 1999 in Straßburg) war eine französische Komponistin.
Leben
Barraine studierte am Conservatoire de Paris bei Georges Caussade, Jean Gallon und Paul Dukas. 1929 gewann sie mit der Kantate La vierge guerrière den Prix de Rome. Sie war eng mit der niederländischen Komponistin Rosy Wertheim befreundet. Sie wirkte beim Radio und leitete seit 1944 das Plattenhaus Chant du Monde. 1953 wurde sie Professorin am Conservatoire und 1972 Inspektorin der Musikdirektion des Kulturministeriums.
Sie komponierte drei Sinfonien, eine Fantasie für Klavier und Orchester, eine Suite astrologique, Schauspiel- und Filmmusiken, kammermusikalische und Chorwerke.
Quelle Wiki: https://de.wikipedia.org/wiki/Elsa_Barraine
Elsa Barraine (* 13 February 1910 in Paris; † 20 March 1999 in Straßburg) was a composer of French music in the time after the neoclassicist movement of Les Six, Ravel, and Stravinsky.
Life
Born in Paris to Alfred Barraine, the principal cellist of the Orchestre de l'Opéra, and Mme. Barraine, Elsa Barraine began studying piano at a young age. She attended the Conservatoire de Paris and studied composition with Paul Dukas, whose impressive list of students includes Yvonne Desportes, Maurice Duruflé, Claude Arrieu, and Olivier Messiaen. Barraine and Messiaen were good friends throughout their lives and kept in frequent contact. A talented pupil, Barraine won First Prize in harmony at the Conservatoire at age fifteen (1925) and then in fugue and accompaniment when she was seventeen (1927). In 1929 she won the Prix de Rome for her cantata La vierge guerrière, making her the fourth female winner since the competition began in 1803. Her piece Harald Harfagard (1930), symphonic variations based on the poetry of Heinrich Heine, was the first composition of Barraine's to gain public recognition. This was her first work of many to take inspiration from literature, such as the later Avis (1944) and L'homme sur terre (1949), both based on Paul Éluard texts.
Barraine worked at the French National Radio from 1936 to 1940 as a pianist, sound recordist, and the head of singing, then after World War II as a sound mixer. During the war, Barraine was heavily involved in the French Resistance and was a member of the Front National des Musiciens. Between 1944 and 1947 she held the position of Recording Director at the well-established record label Le Chant du Monde. In 1953 Barraine was appointed to the faculty at the Paris Conservatoire, where she taught analysis and sight-reading until 1972. It was then that the Ministry of Culture named her Director of Music, giving her charge of all French national lyric theaters.
Source Wiki: https://en.wikipedia.org/wiki/Elsa_Barraine