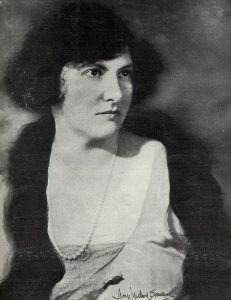 Marion Eugénie Bauer (* 15. August 1882 in Walla Walla, Washington; † 9. August 1955 in South Hadley, Massachusetts) war eine US-amerikanische Komponistin.
Leben
Marion Bauer erhielt ihre erste Ausbildung bei ihrer älteren Schwester, der Pianistin Emilie Frances Bauer und studierte ab 1903 in New York bei Henry Holden Huss. In Frankreich war sie Schülerin von Stéphane Raoul Pugno, André Gedalge, Jean Paul Ertel und Nadia Boulanger. Nach ihrer Rückkehr in die USA unterrichtete sie von 1926 bis 1951 an der Universität von New York und seit 1940 an der Juilliard School of Music. Von 1919 bis 1944 besuchte sie zwölf Mal die Künstlerkolonie MacDowell Colony, wo sie viele ihrer Kompositionen schrieb und zudem Kontakt zu anderen bedeutenden Komponistinnen wie Amy Beach und Ruth Crawford hatte.
Bauer komponierte neben Bühnen- und Filmmusiken ein Klavierkonzert, weitere Orchesterstücke, kammermusikalische Werke in unterschiedlicher Besetzung und Lieder. Daneben publizierte sie auch musiktheoretische Werke. Bauer war Gründungsmitglied der Musikervereinigungen American Music Guild, Society of American Women Composers, American Composers Alliance und American Music Center; daneben war sie Mitglied in der Society for the Publications of American Music und der League of Composers. Häufig war sie in diesen Organisationen die einzige Frau in einer Vorstandsfunktion.
Quelle Wiki: https://de.wikipedia.org/wiki/Marion_Bauer

Marion Eugénie Bauer (* 15 August 1882 in Walla Walla, Washington; † 9 August 1955 in South Hadley, Massachusetts) was an American composer, teacher, writer, and music critic. She played an active role in shaping American musical identity in the early half of the twentieth century.
Life
Marion Bauer was born in Walla Walla, Washington, on August 15, 1882. Her parents—both of French-Jewish background—had immigrated to the United States, where her father Jacques Bauer worked as a shopkeeper and her mother Julie Bauer worked as a teacher of modern languages. Bauer was the youngest of seven children, with an age difference of 17 years between herself and her oldest sister Emilie. In one anecdote, as an infant, Bauer was placed in a basket atop the family's piano as Emilie Bauer went about practicing and teaching.
Later in Bauer's childhood, Jacques Bauer, an amateur musician himself, recognized his youngest daughter's musical aptitude, and Bauer began studying piano with Emilie. When Jacques Bauer died in 1890, the Bauers moved to Portland, Oregon, where Bauer graduated from St. Helen's Hall in 1898. Upon completion of secondary school, Bauer joined her sister Emilie in New York City in order to begin focusing on a career in composition.
Studies
Once in New York, Bauer commenced studies with Henry Holden Huss and Eugene Heffley, in addition to her sister Emilie. In 1905, her studies brought her into contact with French violinist and pianist Raoul Pugno, who was using New York as a base on an extended concert tour of the United States. By virtue of her upbringing in a home headed by French immigrants, Bauer was fluent in both French and English, and was thus able to teach Pugno and his family English. As a result of this favor, Pugno invited Bauer to study with him in Paris in 1906, and it was during this time that Bauer also became the first American to study with Nadia Boulanger, an associate of Pugno's in the Paris music scene. (Ultimately, Boulanger would teach such notable figures as Aaron Copland, David Diamond, Roy Harris and Gail Kubik.) As she had done with Pugno, in exchange for composition lessons from Boulanger, Bauer taught her English.
When she returned to New York in 1907, Bauer continued her studies with Heffley and Walter Henry Rothwell, additionally teaching piano and music theory on her own. After another year of study in Europe from 1910–11, this time focusing on form and counterpoint with Paul Ertel in Berlin, Bauer began to establish herself as a serious composer; it was after this period of study in 1912 that " signed a seven-year contract with Arthur P. Schmidt."
Although active as a composer and private instructor in the years following 1912, Bauer ultimately undertook two more periods of study in Europe, partially facilitated by financial inheritances upon the deaths her mother and older brother. In 1914, she once again returned to Berlin to study with Ertel, but her time there was curtailed by the outbreak of World War I. Almost ten years later, Bauer decided once again to undertake an extended period of study in Europe, this time at the Paris Conservatory with André Gedalge, who had also taught composers such as Maurice Ravel, Darius Milhaud, and Arthur Honegger. At the time, she was 40 years old and offered the following reason for continuing her studies comparatively late in life: "As a member of the American Music Guild, I had the opportunity to measure my powers and my limitations with those of my colleagues….The result was a period of study in Europe. This time I decided in Paris I would find the kind of work and musical environment for which I was seeking." Bauer's studies at the Paris Conservatory, however, were cut short in 1926 when she received the news that her sister Emilie had been hit by a car. Bauer returned to New York, but Emilie's injuries ultimately proved fatal.
Quelle Wiki: https://en.wikipedia.org/wiki/Marion_Bauer
Werkliste
A Lament on an African Theme
Concertino für Oboe, Klarinette und Streicher
Trio Sonate Nr. 1 für Flöte, Cello und Klavier
Symphonische Suite für Streicher
Duo für Oboe und Klarinette
American Youth Concerto
Diskografie