Cecil Frances Alexanderaus Romantik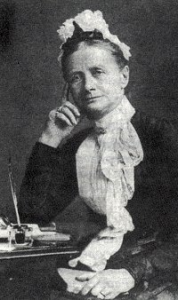 Cecil Frances Alexander (April 1818; † 12. Oktober 1895) war eine anglo-irischer Hymnikerin und Dichterin. Unter anderem schrieb sie "All Things Bright and Beautiful", "Es gibt einen weit entfernten grünen Hügel" und das Weihnachtslied "Once in Royal David's City"
Quelle Wiki: https://en.wikipedia.org/wiki/Cecil_Frances_Alexander
Cecil Frances Alexander (April 1818; † 12 October 1895) was an Anglo-Irish hymnwriter and poet. Amongst other works, she wrote "All Things Bright and Beautiful", "There Is a Green Hill Far Away" and the Christmas carol "Once in Royal David's City".
Life
Alexander was born at 25 Eccles Street, Dublin, the third child and second daughter of Major John Humphreys of Norfolk (land-agent to 4th Earl of Wicklow and later to the second Marquess of Abercorn), and his wife Elizabeth (née Reed). She began writing verse in her childhood, being strongly influenced by Dr Walter Hook, Dean of Chichester. Her subsequent religious work was strongly influenced by her contacts with the Oxford Movement, and in particular with John Keble, who edited Hymns for Little Children, one of her anthologies. By the 1840s she was already known as a hymn writer and her compositions were soon included in Church of Ireland hymnbooks. She also contributed lyric poems, narrative poems, and translations of French poetry to Dublin University Magazine under various pseudonyms.
In 1833, Alexander went to live at Milltown House in Strabane. While living there, she published a number of Christian books: Verses for Holy Seasons (1846), The Lord of the Forest and His Vassals (1847) – a children's allegory – and Hymns for Little Children (1848). By the close of the 19th century, Hymns for Little Children reached its 69th edition. Some of her hymns, such as "All Things Bright and Beautiful", "There Is a Green Hill Far Away" and the Christmas carol "Once in Royal David's City", are known by Christians the world over, as is her rendering of "Saint Patrick's Breastplate".
The former Bishop's Palace in Derry
In Strabane in October 1850 she married the Anglican clergyman William Alexander, afterwards Bishop of Derry and Archbishop of Armagh. Her husband also wrote several books of poetry, of which the best known is St. Augustine's Holiday and other Poems. She was six years older than the clergyman, causing great family concern. Her daughter, Eleanor Jane Alexander, was also a poet.
Alexander was involved in charitable work for much of her life. Money from her first publications had helped build the Derry and Raphoe Diocesan Institution for the Deaf and Dumb, which was founded in Strabane in 1846. The profits from Hymns for Little Children were also donated to the school. She was involved with the Derry Home for Fallen Women, and worked to develop a district nurses service. She was an "indefatigable visitor to poor and sick". She was criticised, however, for her endorsement of the class system, as expressed, for example, in the original third verse of "All Things Bright and Beautiful":
The rich man in his castle,
The poor man at his gate,
God made them high and lowly,
And ordered their estate.
Usually this verse is omitted from performances of the hymn, and was omitted from The English Hymnal (1906) and the revised edition of Hymns Ancient and Modern (1950).
Seven hymns penned by Alexander were included in the 1873 issue of the Church of Ireland Hymnal, and eighteen of her works were contained in A Supplement to Hymns Ancient and Modern (1889). They continue to be well-accepted, as nine of her works were contained in both the 1960 and the 1987 editions of the Hymnal. A posthumous collection of her poems was published in 1896 by William Alexander, titled Poems of the late Mrs Alexander.
Source Wiki: https://en.wikipedia.org/wiki/Cecil_Frances_Alexander
Diskografie