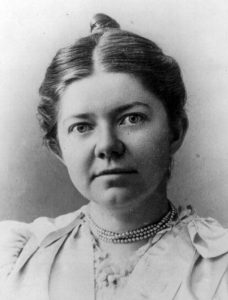 Amy Marcy Beach, geb. Cheney (* 5. September 1867 in Henniker, New Hampshire; † 27. Dezember 1944, New York City) war eine amerikanische Komponistin, Pianistin und die erste amerikanische Frau, die eine Sinfonie schrieb und so in eine damals ausgesprochene Männerdomäne einbrach.
Leben
Amy Cheney galt als Wunderkind. Es heißt, dass sie bereits mit einem Jahr 40 verschiedene Melodien singen konnte. Ein Jahr später begann sie, die zweite Stimme zu improvisieren und brachte sich selbst mit drei Jahren das Lesen bei. Auch als Komponistin pflegte sie ihre autodidaktischen Fähigkeiten: Wie man ein Orchester instrumentiert, lernte sie lediglich nach Hector Berlioz' Buch über die Instrumentationslehre. Mit vier Jahren trug sie einmal ein Klavierstück aus dem Gedächtnis vor, aber einen Halbton höher, weil das Klavier verstimmt war und sie den Originalklang wollte.
Als musikalische Vertreterin der USA auf der Weltausstellung 1893 in Chicago wurde sie in Musikerkreisen und unter den Verfechtern der Frauenemanzipation bekannt.
Nach dem Tod ihres Mannes im Jahre 1910 ging Beach auf eine dreijährige Tournee nach Europa, wo sie Konzerte mit eigenen Klavierwerken gab. 1914 kehrte sie in die USA zurück und verbrachte einige Zeit in der MacDowell Colony in Peterborough in New Hampshire. Seit den 1920er Jahren lebte sie in New York und arbeitete an der St. Bartholomew's Church in der Park Avenue in Manhattan, der größten Episcopal-Gemeinde der Stadt. Diese Position musste sie 1940 wegen einer Herzkrankheit aufgeben, an der sie 1944 verstarb.
Quelle Wiki: https://de.wikipedia.org/wiki/Amy_Beach
Amy Marcy Beach (* 5 September 1867 in Henniker, New Hampshire; † 27 December 1944, New York City) was an American composer and pianist. She was the first successful American female composer of large-scale art music. Her "Gaelic" Symphony, premiered by the Boston Symphony Orchestra in 1896, was the first symphony composed and published by an American woman. She was one of the first American composers to succeed without the benefit of European training, and one of the most respected and acclaimed American composers of her era. As a pianist, she was acclaimed for concerts she gave featuring her own music in the United States and in Germany.
Life
Amy Marcy Cheney was born in Henniker, New Hampshire on September 5, 1867 to Charles Abbott Cheney (nephew of Oren B. Cheney, who co-founded Bates College) and Clara Imogene (Marcy) Cheney. Artistic ability appears to have run in the family: Clara was reputedly an "excellent pianist and singer," while Amy showed every sign of being a child prodigy. She was able to sing forty songs accurately by age one, she was capable of improvising counter-melody by age two, and she taught herself to read at age three. At four, she composed three waltzes for piano during one summer at her grandfather's farm in West Henniker, NH, despite the absence of a piano; instead, she composed the pieces mentally and played them when she returned home. She could also play music by ear, including four-part hymns. The family struggled to keep up with her musical interests and demands. Her mother sang and played for her, but attempted to prevent the child from playing the family piano herself, believing that to indulge the child's wishes in this respect would damage parental authority. Amy often commanded what music was played in the home, becoming enraged if it did not meet her standards.
Amy began formal piano lessons with her mother at age six, and soon gave public recitals of works by Handel, Beethoven, and Chopin, as well as her own pieces. One such recital was reviewed in arts journal The Folio, and multiple agents proposed concert tours for the young pianist, which her parents declined – a decision for which Amy was later grateful.
In 1875, the Cheney family moved to Chelsea, a suburb just across the Mystic River from Boston. They were advised there to enroll Amy in a European conservatory, but opted instead for local training, hiring Ernst Perabo and later Carl Baermann (himself a student of Franz Liszt) as piano teachers. In 1881–82, the fourteen-year-old also studied harmony and counterpoint with Junius W. Hill. This would be her only formal instruction as a composer, but " she collected every book she could find on theory, composition, and orchestration … she taught herself … counterpoint, harmony, fugue," even translating Gevaert's and Berlioz's French treatises on orchestration, considered "most composers' bibles," into English for herself.
Early career
Amy Beach in 1908
Amy Cheney made her concert debut at age sixteen on October 18, 1883, in a "Promenade Concert" conducted by Adolph Neuendorff at Boston's Music Hall, where she played Chopin's Rondo in E-flat and was piano soloist in Moscheles's piano concerto No. 3 in G minor, to general acclaim: as biographer Fried Block comments, "it is hard to imagine a more positive critical reaction to a debut," and her audience was "enthusiastic in the extreme." The next two years of her career included performances in Chickering Hall, and she starred in the final performance of the Boston Symphony's 1884–85 season.
Amy would later recall one rehearsal for a Mendelssohn concerto in 1885, when the conductor slowed the orchestra during the last movement, attempting to go easy on the teenage soloist. When she began the piano part, however, she played at full prescribed tempo: "I did not know that he was sparing me, but I did know that the tempo dragged, and I swung the orchestra into time".
Marriage
Amy was married the same year (1885) to Dr. Henry Harris Aubrey Beach (1843–1910)), a Boston surgeon twenty-four years her senior (she was eighteen at the time). Her name would subsequently be listed on concert programs and published compositions as "Mrs. H. H. A. Beach." The marriage was conditioned upon her willingness "to live according to his status, that is, function as a society matron and patron of the arts. She agreed never to teach piano, an activity widely associated with women" and regarded as providing "pin money." She further agreed to limit performances to two public recitals per year, with profits donated to charity, and to devote herself more to composition than to performance (although, as she wrote, "I thought I was a pianist first and foremost.") Her self-guided education in composition was also necessitated by Dr. Beach, who disapproved of his wife studying with a tutor. Restrictions like these were typical for middle- and upper-class women of the time: as it was explained to a European counterpart, Fanny Mendelssohn, "Music will perhaps become his Fanny's brother Felix Mendelssohn's profession, while for you it can and must be only an ornament.".
In recollecting her married life in 1942, Beach stated, "I was happy and he was content" and "I belonged to a happy period that may never come again." Performing in Germany after Henry's death in 1910, she dropped the "Mrs. H. H. A." for "Amy", apparently because the "Mrs." mystified German audiences, but thereafter she used Mrs. H. H. A. Beach for the rest of her life.
Rise to prominence
A major compositional success came with her Mass in E-flat major, which was performed in 1892 by the Handel and Haydn Society orchestra, which since its foundation in 1815 had never performed a piece composed by a woman. Newspaper music critics responded to the Mass by declaring Beach one of America's foremost composers, comparing the piece to Masses by Cherubini and Bach.
Beach followed this up with an important milestone in music history: her Gaelic Symphony, the first symphony composed and published by an American woman. It premiered October 30, 1896, performed by the Boston Symphony "with exceptional success," although "whatever the merits or defects of the symphony were thought to be, critics went to extraordinary lengths in their attempts to relate them to the composer's sex." Composer George Whitefield Chadwick (1854–1931) wrote to Beach that he and his colleague Horatio Parker (1863–1919) had attended the Gaelic Symphony's premiere and much enjoyed it: "I always feel a thrill of pride myself whenever I hear a fine work by any of us, and as such you will have to be counted in, whether you like it or not – one of the boys." These "boys" were a group of composers unofficially known as the Second New England School, and included not only Chadwick and Parker but also John Knowles Paine (1839–1926), Arthur Foote (1853–1937), and Edward MacDowell (1860–1908). With the addition of Beach, they collectively became known as the Boston Six, of whom Beach was the youngest.
In 1900, the Boston Symphony premiered Beach's Piano Concerto, with the composer as soloist. It has been suggested that the piece suggests Beach's struggles against her mother and husband for control of her musical life.
Source Wiki: https://en.wikipedia.org/wiki/Amy_Beach
Werkliste
Pastorale für Bläserquintett
Diskografie